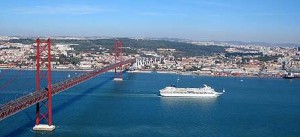 Lisbon Port
There is no denying that Lisbon is a magical place. Since 2010 when it won top honors for the year as the Best Destination in Europe it has scored within the top 10 locations as a favored place to visit. Many who select to take a European cruise count
Lisbon
as a"must see" port-of-call. Some 20 percent go as far as to actively discard options for cruises that do not visit this city.
What is it that makes Lisbon so popular? Is simply a function of ideal weather and good location? Is it because the city has so many unexpected locations of beauty and ample history embedded within its twisting lanes? Is it the vast array of things to see and do on a visit there that keep people returning year after year? Chances are it is all the above and more.
The city has been called many things including "the City of White Light" and sits among 7 hills. Between the geography of the land and the course of the River Tagus there are many locations of breathtaking views. Among these are Graça, Senhora do Monte, Santa Luzia, São Jorge Castle and São Pedro de Alcantara. With thousands of years of human settlement evident here, it is no wonder that
Lisbon
uniquely intersects history and modern progress. While Lisbon is popular, it is still one of the few places where you can meet and mingle with the local population which is universally known to be open and friendly (although speaking Portuguese is an excellent idea in such situations).
If you are wondering what to do in the city you will find there is a wide range of things for any budget. Hitting town Sunday morning can get you free admissions into many museums and other attractions, as long as you go before 2pm. For those making a day trip a hike through town is equally attractive, but you do not have to be limited to waking. The Eléctrico 28 (or Tram 28) offers a great way to see the Old Town locations of Graça, Alfama, Baixa, Chiado, and Bairro Alto, and is in itself a historic adventure (it dates back to 1901).
Depending on the day you go you might find that the above tram stops at theFeira da Ladra or Thieves Market. Open early in the mornings on Tuesday and Saturday this internationally famous flea market can provide you with unique items from the area be it antiques, vintage items or hand crafted cultural crafts. There are tons of locations to explore, and a short piece like this cannot even dare to mention them all. Hitting Lisbon's Botanic Gardens, or stepping back in time at the Church of Santa Engrácia are both lovely options. No matter how you get to Lisbon, or how much time you have to spend here, you are sure to discover that you need more time. This is why the magical and ancient city captures hearts and beacons like a siren call to all who visit.